Page 29 - Corporate Responsibility Report 2018
P. 29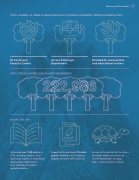 TOTAL NUMBER OF TREES PLANTED SINCE THE COSTAYACO FORESTRY CENTER OPENED IN 2010:
Environmental Stewardship 27
   THOUSAND
At Costayaco Forestry Center
THOUSAND
Across Putumayo Department
THOUSAND
Donated to communities and educational centers
       TOTAL TREES PLANTED THROUGH GTE INVESTMENTS
                                IN 2018, THE CFC:
                  Welcomed over 1,140 visitors in 2018, including students, local community leaders, environmental organizations, birdwatchers,
local, regional and national regulatory bodies.
Supported the planting of 75 native species of trees in the Putumayo Department where GTE is present.
Served as the location for the release of multiple wildlife specimens by CORPOAMAZONIA, including sloths, turtles and other animals.