Page 27 - Corporate Responsibility Report 2018
P. 27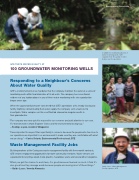 GTE TESTS WATER QUALITY AT
100 GROUNDWATER MONITORING WELLS
   Responding to a Neighbour's Concerns About Water Quality
GTE's environmental license mandates that the company monitors the water at a series of monitoring wells within two kilometres of its oil wells. The company has never found evidence of any hydrocarbons in any of these water monitoring wells since production began years ago.
When the Lopez family became concerned that GTE's operations at its nearby Costayaco facility might be contaminating their water supply, the company sent a team out to investigate. Water samples sent to a certified lab showed no irregular results in
their groundwater.
"The company was very quick to respond to our concerns and paid attention to our case. For that we want to thank Engineer Carlos and the environmental workgroup."
– Rodrigo Lopez, resident, Villagarzón
"It was important to respect the Lopez family's concerns because the people who live close to our operations are important to us and we want to make sure they are comfortable with what we are doing." – Carlos Solarte, Environmental Professional, GTE
Waste Management Facility Jobs
By hiring workers at the Costayaco waste management facility with three month contracts, GTE creates employment opportunities for more community members. Waste streams are separated into recycling, wood, metal, plastics, hazardous waste and several other categories.
"When you get the chance to work here, it is good because I learned so much. I think it's also good how they manage waste because people are reusing most of these things." – Guido Lasso, Vereda Alemania
Guido Lasso, Waste Management Facility Operator, GTE
Environmental Stewardship 25
In addition to maintaining dozens of water monitoring wells, GTE regularly tests the quality of water bodies near its operations.