Page 4 - Corporate Responsibility Report 2018
P. 4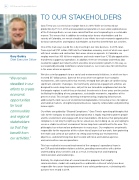 02
2018 Corporate Responsibility Report
  Gary Guidry
Chief Executive Officer
"We remain steadfast in our efforts to create economic opportunities for local communities and regional stakeholders
so that they benefit from our activities."
TO OUR STAKEHOLDERS
Gran Tierra was successful on multiple fronts in 2018. While we increased our production by 15% in 2018 and expanded our operations in new under-explored areas of the Putumayo Basin, we are more committed than ever to operating in a sustainable manner. This means that in addition to creating value for our shareholders and the country of Colombia, we remain steadfast in our efforts to create economic opportunities for local communities and regional stakeholders so that they benefit from our activities.
One of the main ways we do this is by investing in our core business. In 2018, Gran Tierra injected $791 million USD into the Colombian economy, much of which was spent with local vendors and contractors from areas where we operate. In Colombia, we employ more than 300 full-time employees and create more than 4,700 job opportunities that directly support our operations. In addition, there are secondary and tertiary jobs needed to support our industry which also drive local economic growth. In this way, as we responsibly develop Colombia's natural resources, we create value for communities in the areas where we operate.
We take a similar approach to our social and environmental initiatives, in which we have invested $57 billion pesos. Some of the areas where we operate have complex environments, with communities that recently emerged from decades of conflict facing significant economic challenges. Our community and social engagement activities are designed to create long-term value, not just for our immediate neighbours but also for the broader regions in which they are located. Investments in these areas are focused on facilitating the building of new, prosperous, sustainable economies, regardless of the presence of oil. This includes fostering entrepreneurship, improving infrastructure, addressing the root causes of environmental degradation, increasing access to regional and national markets, strengthening local business capacity, reforestation and protecting human rights.
Our efforts are guided by "Beyond Compliance," Gran Tierra's operating philosophy that calls for the company to voluntarily go beyond what is legally required to protect people and the environment and engage with local stakeholders. We believe that going beyond compliance is not only the right way to run a business, but in doing so, we are helping to secure a stable investment environment for our long-term commitment to the area. This philosophy has enhanced our performance in many ways. Our employees are primarily responsible for the expansion of this culture into all aspects of our work, from protecting the health and safety of our workers to setting and meeting our environmental objectives, and determining how best to work with local and national agencies
and communities near our operations.
This has resulted in increased involvement of the company's operational team in our CSR and stakeholder relations activities, providing communities with a better understanding of our activities and as a result, increasing trust and improving communication and relationships.
Similarly, the implementation of several innovative programs that simplify communications, model safe work practices and build a culture of safety have been responsible for a years-long improvement in our safety performance, culminating with our best-ever record in 2018.