Page 2 - Corporate Responsibility Report 2018
P. 2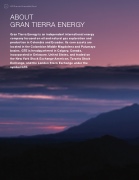 I 2018 Corporate Responsibility Report
ABOUT
GRAN TIERRA ENERGY
Gran Tierra Energy is an independent international energy company focused on oil and natural gas exploration and production in Colombia and Ecuador. Its core assets are located in the Colombian Middle Magdalena and Putumayo basins. GTE is headquartered in Calgary, Canada, incorporated in Delaware, United States, and traded on
the New York Stock Exchange American, Toronto Stock Exchange, and the London Stock Exchange under the symbol GTE.