Page 38 - Corporate Responsibility Report 2018
P. 38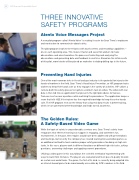 36 2018 Corporate Responsibility Report
THREE INNOVATIVE SAFETY PROGRAMS
Atento Voice Messages Project
A new pilot program called 'Atento Voice' is making it easier for Gran Tierra's employees and contractors to communicate about safety.
The pilot program involves three kiosks with touchscreens and recording capabilities – one in each operating area. This makes it faster and easier for workers to make observations and also streamlines the process of collecting and analysing the observations and generating data and feedback in real time. Based on the initial results of this pilot, more kiosks will be placed on worksites including drilling rigs in the future.
Preventing Hand Injuries
One of the most common risks in the oil and gas industry is the potential for injury to the hands of workers in the field. Gran Tierra's Hand Injury Prevention, or HIP, program trains workers to keep their hands safe as they engage in the variety of activities. HIP utilizes a camera built into safety glasses to capture a worker's task on video. The video with real data is then fed into an application that presents the right procedures to trainees. Trainees must answer questions while watching the procedures. The application keeps a score that tells HSE if the trainee has the required knowledge to keep his or her hands safe. The HIP program rests on the theory that using real data results in better training, which in turn generates better knowledge and leads to real awareness.
The Golden Rules:
A Safety-Based Video Game
While the topic of safety is unquestionably a serious one, Gran Tierra's safety team recognizes that effective learning can happen in engaging, and sometimes fun, environments. In the past, these topics would have been addressed with presentations and meetings, but recently the company has created learning-focused video games as an additional method to teach workers proper safety procedures for doing six high risk tasks. In this case, players work in different locations on different high risk tasks, asking questions, answering challenges and applying correct procedures.
Utilizing a video game in this way follows the scientific method of experimenting with ways to learn from mistakes. The players are evaluated and must pass to qualify to work on certain real-world tasks. The game, the first of its kind, is currently being adapted into an internet-based game to be more broadly accessible by GTE's workers in the field.