Job Creation and Workforce Development
After acquiring and integrating three Colombian oil companies, Gran Tierra has focused on building "one team" committed to fostering cohesion across all of the Company's operations with the goal of maximizing efficiency and prioritizing safety practices.
GTE continues to maximize local hiring of skilled employees from nearby areas. In addition, the Company has focused on preparing promising employees to take on greater responsibility through development programs that open pathways for them to progress within the company. As part of its effort to address the UN Sustainable Development Goals, GTE continues to train women both inside and outside the Company.
GTE also works to create numerous economic development opportunities leading to life-improving changes for communities in Colombia's Middle Magdalena Valley and Putumayo regions, as well as in the Sucumbíos region of Ecuador as our operations become more established. GTE brings its values to all of its activities and operations. These include going Beyond Compliance in respecting human rights, maintaining operational integrity, establishing a culture of safety, efficiency, stewardship of the environment, and collaboration with the Colombian government.
---
Encouraging and Enabling Local Suppliers: A Fair Bidding Process
As Gran Tierra increases its field operations, economic benefits flowing to local businesses and communities are also growing. One reason is that GTE's Fair Bidding Process and other procurement procedures are designed to maximize opportunities for local and regional communities to capture some of these benefits associated with the Company's activities.
Driving Gran Tierra's competitive and transparent Fair Bidding Process for goods and services are the Company's commitments to:
Comply with all national laws and nine relevant corporate policies.
Share the same information with all potential bidders, including strong tender documents and clear and fair rules about the proposal process.
The contracting process is subject to regular internal and external audits in order to verify that the supply chain procedure and company policies are being followed.
GTE informs each vendor about the results of the bidding process, and bidders can request additional information to help them understand what they need to do to improve their chances in the future.
Gran Tierra Energy awarded over USD$109 million to local companies for goods and services in 2022:
LOCATION
INVITED COMPANIES
LOCALLY WON
CONTRACTS
TOTAL AWARDED
Colombia
Cauca
97
6
13
150,655
Putumayo
1,317
151
618
20,427,269
MMV
570
50
393
12,984,722
Yopal
18
5
5
52,394
Ecuador
Orellana
4
3
3
6,480,961
Sucumbíos
34
13
18
447,442
National
492
78
181
68,815,803
Total
2,532
306
1,231
109,360,246
---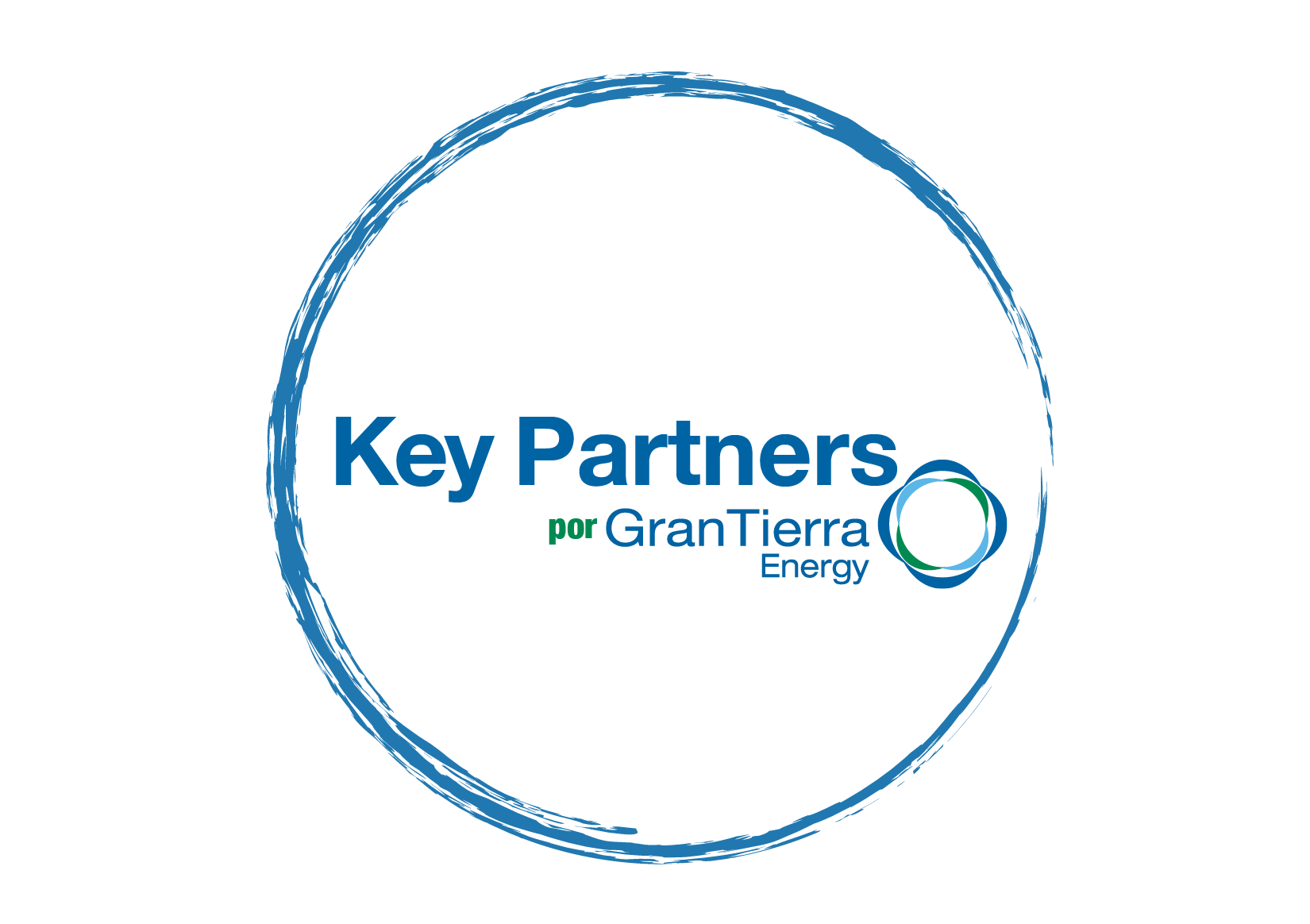 Key Partners – Developing and Supporting Local Vendors
GTE's successful Key Partners program has evolved from a simple award given to the best performing vendors into an integrated, multi-stage program with five components. This program has led to tremendous growth in the capabilities, capacity, and competitiveness of vendors in the areas where the company operates.
Components of Key Partners:
Developing close, beneficial relationships with existing and potential vendors through continuous contact with dedicated company staff. This ensures ongoing dialogue and alignment between vendor and company.
Dedicated high-value training offered to managers and owners of vendor companies delivered in partnership with regional Chambers of Commerce.
Supply Chain standards that ensure GTE's contractors are also sourcing from local suppliers.
Performance evaluations that measure, recognize and reward 4 outstanding vendors. Facilitating relationships between contractors and local suppliers to foster a growing ecosystem of opportunities for area businesses.
Members of the Key Partners program are expected to:
Offer high quality goods and services
Submit competitive proposals, both in price and quality, when invited to bid
Be a collaborative partner with the goal of ensuring that GTE operations are carried out safely and accurately
Respect corporate decisions made by GTE or its contractors
Understand and apply GTE's human rights and anti-corruption policies in their business practices
Participate in activities developed by GTE aimed at strengthening business skills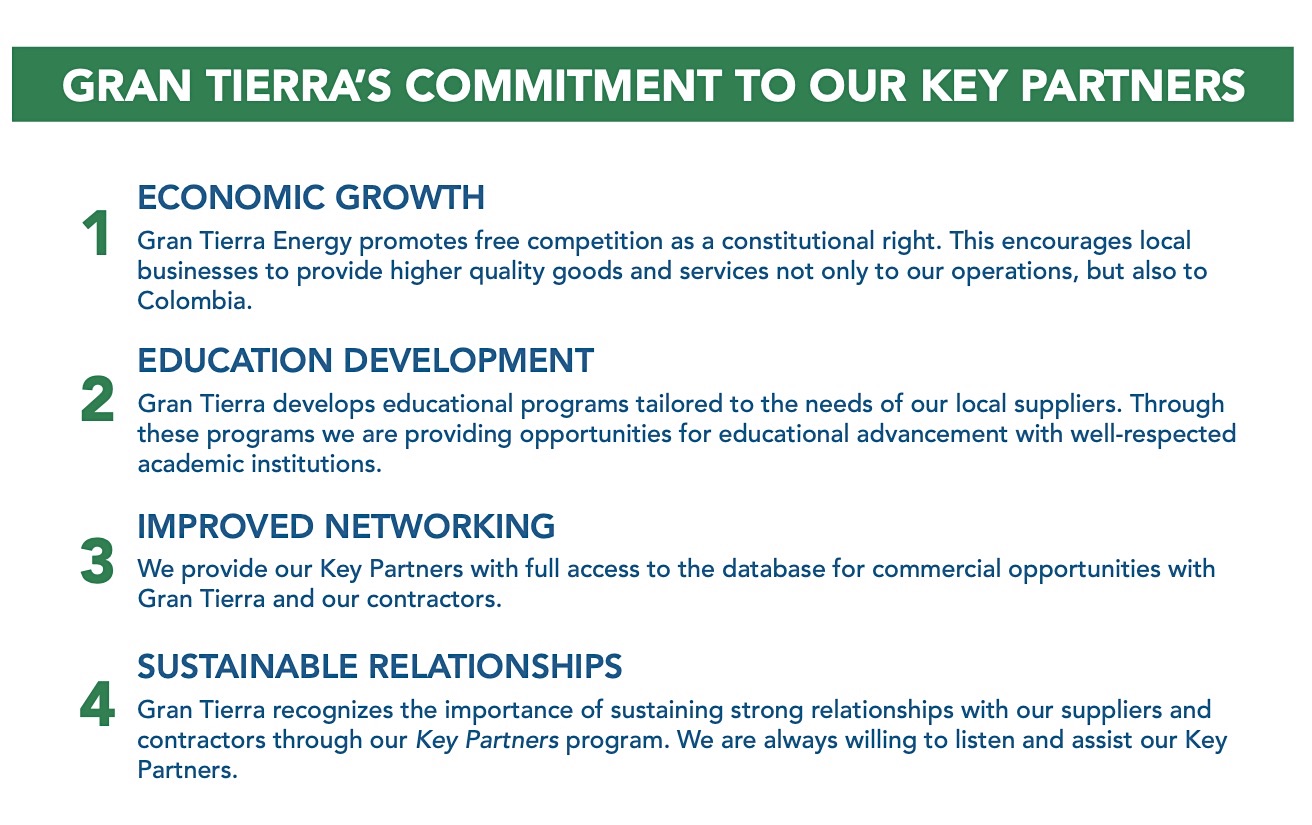 ---
Meet some of GTE's Key Partners:
"Since my family started our business in 1995 as a simple transportation company, we've grown into other sectors, including oil transportation. Gran Tierra's clear communications, guidance and training has helped us easily integrate with the Company, and their support has helped us improve our own processes."

WENDY LOZADO, Legal Representative, Contranskilili
"We were a really small company when I came aboard to manage it eleven years ago. Working in the hydrocarbon industry has helped us grow and learn, and GTE's Key Partners program is excellent in this regard. We've had to work hard to meet GTE's high standards for safety and integrity."

ELSA COLMENARES RUEDA, General Manager, Contrasanal, a cooperative that provides ground transportation services to GTE's Middle Magdalena Valley operations
"As a client, GTE has been a key partner of mine. They helped us in developing new skills, provided training to our employees and connected us with new clients. The diploma courses have been an in-depth source of knowledge on a number of topics that have helped my business. Thanks to the training that Key Partners has provided us, we have grown personally, offered better services and qualified for new projects."

SONIA CAICEDO, General Manager, SAPS, a waste management services company in San Martín
If you are interested in becoming a Key Partner please click here for more information.
---
Local Suppliers Development Program Prepares Companies for Success
Communities in Putumayo have faced significant security, educational and economic challenges for decades. Many of these challenges – lack of infrastructure, jobs, education, and technical training – remain in a post conflict context. This has made it difficult for participants in the local workforce to acquire the technical experience that would qualify them for a number of jobs with Gran Tierra. Since some positions are very specialized, often no one in the region has the required qualifications.
Colombian regulations stipulate that skilled positions can be filled by workers from outside the locality if there are insufficient numbers of qualified local workers. However, rather than importing people from other regions, five years ago GTE started a program to train local workers for technical jobs. The program, entitled From Challenges to Opportunities, helps people understand the skills and experience required to qualify for the jobs Gran Tierra offers and then conducts training and certification programs to help prospective employees meet the requirements. The program also helps existing employees qualify for promotions. This results in more opportunities for local communities, which can be seen in GTE's local hiring statistics which far exceed what is required by law.
Also contributing to the increase in local economic benefits is the company's Local Suppliers Development Program. The main objective of the program is to transfer business knowledge and skills to local entrepreneurs in GTE's areas of operation through classes called "Diploma Courses." Focusing on important enabling areas like business skills, e-commerce and marketing, the goal of the program, which delivers over 200 hours of classroom and online training, is to raise the participants' commercial, legal and competitive capabilities to strengthen their businesses. The program has been conducted in the Putumayo for 10 years and 5 years in the Middle Magdalena Valley.