Encouraging and Enabling Local Suppliers: A Fair Bidding Process
As Gran Tierra increases its field operations, economic benefits flowing to local businesses and communities are also growing. One reason is that GTE's Fair Bidding Process and other procurement procedures are designed to maximize opportunities for local and regional communities to capture some of these benefits associated with the company's activities.
Driving Gran Tierra's competitive and transparent Fair Bidding Process for goods and services are the company's commitments to:
Comply with all national laws and nine relevant corporate policies.
Share the same information with all potential bidders, including strong tender documents and clear and fair rules about the proposal process.
The contracting process is subject to regular internal and external audits in order to verify that the supply chain procedure and company policies are being followed.
GTE informs each vendor about the results of the bidding process, and bidders can request additional information to help them understand what they need to do to improve their chances in the future.
Gran Tierra Energy awarded over $50 million USD in contracts to local companies for goods and services in 2017:
| LOCATION | NO. OF LOCAL COMPANIES | NO. OF PROCESSES IN WHICH GTE INVITED LOCAL COMPANIES | NO. OF PROCESSES IN WHICH LOCAL COMPANIES WON | TOTAL AMOUNT OF USD AWARDED TO LOCAL COMPANIES |
| --- | --- | --- | --- | --- |
| Mocoa / Puerto Limón | 87 | 247 | 102 | $2,320,651 |
| Orito | 46 | 85 | 82 | $6,445,907 |
| Puerto Asís | 32 | 62 | 59 | $1,918,811 |
| Valle de Guamuez | 16 | 12 | 3 | $76,330 |
| Villagarzón | 67 | 249 | 160 | $2,499,457 |
| Piamonte | 10 | 27 | 14 | $174,147 |
| VMM | 55 | 117 | 115 | $37,359,135 |
| Sinu | 11 | 16 | 10 | $137,436 |
| Total | 324 | 815 | 545 | $50,931,874 |
---
Colombian National Hydrocarbons Agency (ANH) Awards
Out of 107 strong initiatives presented to the Colombian National Hydrocarbons Agency (ANH)-sponsored "Best Social Practices in the Energy Industry", Gran Tierra Energy won awards in 2 out of 4 categories.
The two awards we received were for the following two Gran Tierra initiatives:
In the Human Resources Category - "From Challenges to Opportunities"
In the Supply Chain Category - "Key Partners Gran Tierra: The Best Allies, the Best Operations"
These two awards are an important external recognition for Gran Tierra's efforts to contribute to job creation and local business support.
---
GTE Contract Helps Young Company Grow
After working for years as an employee of a GTE subcontractor, electrical engineer José Antonio Riascos Madrid decided in 2015 to start his own company, Jarma Ingenia, SAS, in Villagarzón with the goal of acquiring GTE as a major client. The company has expertise in electrical, mechanical, and civil engineering work, instrumentation control, and installations, and thanks to Gran Tierra's Fair Bidding Process for contractors, it performs some of these services for GTE. Jose now has other clients in addition to GTE, and he wants Jarma Ingenia, SAS to continue growing its client base to become recognized throughout the country.
"This community was hard hit by the violence plaguing the country for a long time, but people now realize that this mindset needs to change. The oil sector has offered us many opportunities and combined with the distribution of oil royalties from the government we've had a lot of infrastructure improvements. People are not only thinking about getting jobs but also starting their own businesses here."

JOSÉ ANTONIO RIASCOS MADRID, Principal, Jarma Ingenia SAS
28 COMPANIES founded in Puerto Limón since GTE's presence
$3.67 BILLION Colombian Pesos worth of contracts to companies based in Puerto Limón in 2017
---
Local Suppliers Program Prepares Companies for Success
Also contributing to the increase in local economic benefits is the company's Local Suppliers Development Program. The main objective of the program is to transfer business knowledge and skills to local entrepreneurs in GTE's areas of operation through classes called "Diploma Courses." Focusing on important enabling areas like business skills, e-commerce and marketing, the goal of the program, which delivers over 200 hours of classroom and online training, is to raise the participants' commercial, legal and competitive capabilities to strengthen their businesses. The program is being conducted in the two areas in Colombia where Gran Tierra is most active.
5th year that the Local Suppliers Development Program took place in Villargarzón
Conducted in alliance with the Technology Institute of Putumayo
57 participants representing 38 companies graduated in 2017
The program was introduced in San Martín this year
Conducted in alliance with Consolidar, an educational institute based in Barrancabermeja
42 participants representing 32 companies graduated in 2017
---
Diploma Courses Inspire Entrepreneurs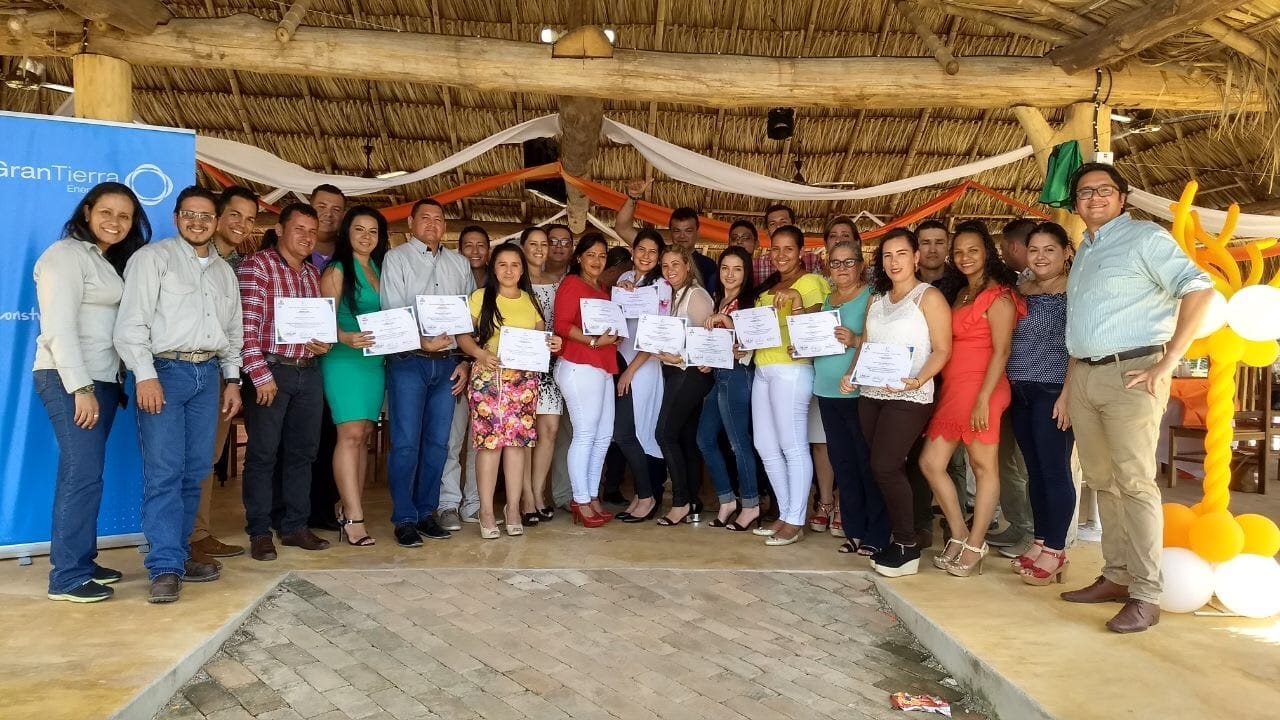 Blanco Ramirez is the principal of "Zoe Solutions SAS," a San Martín-based company that provides civil work, landscaping, and personal protective equipment (PPE) services and supply. She took all seven diploma courses and then applied her new skills to grow the company.
"The tools that we get from the courses helped me and others realize that we have the capability to start and manage our own companies. GTE is very much focused on empowering us in our territory. Being an entrepreneur has changed my life—it's hard work and a lot of responsibility. But it is empowering. As we grow our companies, we are generating opportunities and helping improve the lives of people. GTE has been doing a very good job based on the work they have done with the community. I'm very grateful to them for the opportunity to strengthen ourselves that they have created."

BLANCO RAMIREZ, Principal, Zoe Solutions SAS
---
From Single Mother to Successful Entrepreneur
As a single mother, Aura Aideni Bastidas Guerrero started a catering business, Rivas Casa Banqueteria, that is now a supplier for Gran Tierra in Villagarzón. She and her children were victims of the political violence in the area, so she and several mothers came together to create this business to help other women displaced by the violence. She credits a one-month-long Diploma Course conducted by GTE as significantly contributing to her entrepreneurial success.
"Gran Tierra has given us the opportunity to grow. They have trained us, and we have grown personally and from a business standpoint too. This is true not only for us but other small and growing companies in the area."

AURA AIDENI BASTIDAS GUERRERO, Rivas Casa Banqueteria
---
Support of GTE's Operations Leads to Boost in Local Economy
By taking advantage of Gran Tierra's economic development efforts, some local communities have experienced significant, even transformative impacts on their standards of living. One example is Puerto Limón, a town of 2,500 near the company's Moqueta facilities. Holman Julio Mesa Quiñones, President of the Community Board (JAC Puerto Limón), describes GTE's impacts on his community.
"In Puerto Limón living conditions were very poor, but now many people can improve their homes. Before houses were made of wood; now you can find properly constructed homes with better materials as well as a primary and a secondary school. In the past we had worked with another oil company and had a poor relationship, but since we started working with GTE, it has gone all the way up. Economically speaking, our living conditions have improved, and now we have over 25 local companies that have been founded to support GTE's operations. Puerto Limón companies are doing civil work, welding, providing goods and services, catering and social work within the community. Before, so much of the wealth generated here was going to different regions. Now that isn't the case, thanks to GTE.

The good thing is that the company is so willing to work with the community. The national government has minimum requirements for GTE in a number of areas, but sometimes the company goes beyond the minimums. From supporting our traditional festivities to incentivizing our kids' academic performance and providing university tuition grants and school repairs, the company is very involved in supporting our community."

HOLMAN JULIO MESA QUIÑONES, President of the Community Board (JAC Puerto Limón)