Page 48 - Corporate Responsibility Report 2018
P. 48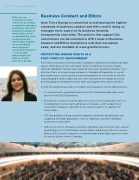 46 2018 Corporate Responsibility Report
 "At its core, our commitment is about respect. As we continue to expand our operations, especially in areas with particular challenges in human rights, we are ensuring that the social, environmental and human rights programs we are developing
meet the highest international standards." – Laura Castillo,
Human Rights and Business Leader,
Gran Tierra Energy
Business Conduct and Ethics
Gran Tierra Energy is committed to maintaining the highest standards of business conduct and ethics and in doing so manages every aspect of its business honestly, transparently and safely. The policies that support this commitment are documented in GTE's Code of Business Conduct and Ethics Compliance with Anti-Corruption Laws, and are available at www.grantierra.com.
PROTECTING HUMAN RIGHTS IN A
POST-CONFLICT ENVIRONMENT
For nearly five decades of armed conflict, Colombians experienced myriad human rights abuses. While abuses in the current post-conflict environment have been sharply reduced, Colombians continue to be impacted, with many remaining vulnerable. This is why Gran Tierra, as a major energy company in Colombia with operations in several post-conflict areas, insists not only on maintaining policies to ensure that its activities avoid infringing on human rights, but also seeks to be part of the solution by actively delivering programs that protect human rights and support human rights defenders.
In 2018 the company took actions at multiple levels to guide its human rights practices:
• It is referencing the guiding principles of the UN, Colombian public policy best practices and OECD Dispositions.
• Based on the results of a human rights risk assessment it conducted in 2017, it is consolidating its human rights and business strategies, with the objective of securing the company's reputation as the national leader in its approach to human rights.
• GTE also prioritizes having a proactive approach to gender equality/parity and supporting vulnerable populations, such as Indigenous and Afro-Colombian communities and children.
• GTE was one of five companies invited by Colombia's special human rights advisor to participate in the United Nations Human Rights and Business Forum in Geneva (below). GTE shared its experience in implementing Human Rights practices within the context of post-conflict Colombia.