Page 44 - Corporate Responsibility Report 2018
P. 44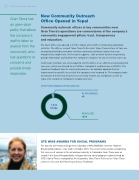 42 2018 Corporate Responsibility Report
 Gran Tierra has an open-door policy that allows the company's staff to listen to anyone from the community who has questions or concerns and provide timely responses.
New Community Outreach Office Opened in Yopal
Community outreach offices in key communities near
Gran Tierra's operations are cornerstones of the company's community engagement pillars: trust, transparency
and education.
The latest office was opened in 2018 in Yopal, where GTE is conducting exploration activities. The offices, named "Gran Tierra Te Escucha" (Gran Tierra Listens to You), are located and staffed to welcome visits by community members and to share any thoughts they might have. As the name suggests, staff are there to listen respectfully, provide information and facilitate the company's response to any issues that come up.
Community members are encouraged to visit the offices in an effort to uncover potential concerns, which are referred to as Petitions, Complaints and Grievances (PQR's). This important feedback from its community partners can highlight opportunities for improvement or specific issues that the company must respond to. The company looks to minimize the time that it takes to successfully resolve any complaints as well as reduce the number of complaints steadily over time.
2018 PQR'S RESOLUTION STATUS:
  1,614 TOTAL
IN PROGRESS
45
RESOLVED
1569
    GTE WINS AWARDS FOR SOCIAL PROGRAMS
The Society of Petroleum Engineers Colombia's WIN AWARDS event for "Women Breaking Boundaries" was held in October 2018. The event is focused on recognizing the success of women in the oil and gas industry in Colombia. Gran Tierra won an award in the Social Responsibility category for two social programs administered by GTE's Social Team, managed by Ana Saavedra: Gran Tierra Te Escucha / Gran Tierra Listens to You and the PetrolCopa School Challenge.