Page 18 - Corporate Responsibility Report 2018
P. 18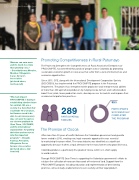 16
2018 Corporate Responsibility Report
 "Now we can earn more and it's much less risky than growing coca."
– Seneida Gomez Morales, Member, Villagarzón Cacao Growers Association
(pictured above, 3rd from left)
"The main impact PROCOMPITE is having is establishing a better future for our kids. We are a society in a transition that could take 10 or 20 years, but farmers need to be able to earn money every day, so I want to express our sincere gratitude to Gran Tierra, SOCODEVI, and the international organizations for putting their time and resources into this important program." – Osvaldo Pantoja, President, Villagarzón Cacao Growers Association (pictured above, 2nd
from left)
Promoting Competitiveness in Rural Putumayo
The Project to Strengthen the Competitiveness of Rural Associative Enterprises or PROCOMPITE, has benefited thousands of people across Colombia by promoting sustainable economic growth in rural areas that suffer from a lack of infrastructure and economic opportunities.
Since 2015, GTE, along with the International Development Cooperation Society (SOCODEVI), has implemented the PROCOMPITE program in the Putumayo Department. The project has strengthened the productive and entrepreneurial abilities of more than 400 agricultural producers by helping cocoa farmers and cattle breeders boost their yields, lower production costs, develop access to markets and improve their environmental protection practices.
   289
PARTICIPATING FAMILIES
The Promise of Cocoa
95%
PARTICIPANTS SUCCESSFULLY COMPLETED THE PROGRAM
  After more than 50 years of conflict between the Colombian government and guerrilla forces ended in 2016, creating new, legal economic opportunities was essential
to maintaining the peace effort. The cocoa industry was identified as a significant opportunity because it offers a legal alternative to the many farmers who grow illicit coca.
Colombia produces a particularly fine grade of cocoa, which is in short supply in world markets.
Through PROCOMPITE Gran Tierra is supporting the Colombian government's efforts to catalyse the cultivation of cocoa on thousands of hectares of land. Support from the PROCOMPITE program, including education and implementation of best farming practices, will eventually enable farmers to successfully sell their legal product.