What It's Like Working for Gran Tierra Energy
By Carlos Agusto García Cordoba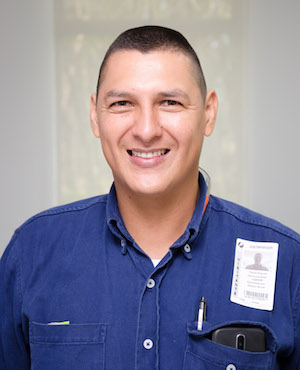 I come from the Huila Department in Southern Colombia, but I've lived in the village of Canangucho in Putumayo for 17 years, so I feel that part of me is from here. I am grateful because this land has given me a lot of opportunities. For the past seven years I have been president of Canangucho's Junta de Action Communal (JAC) or Planning Association. Most villages have one. These groups are made up of citizens who want to plan the growth and direction of their communities and work to obtain resources from public and private institutions.
I started working for Gran Tierra after the company began drilling in the area. This turned out to be a very good experience because it gave me income and that really helped my family. After two years, the company gave me the opportunity to become a Wastewater Treatment Operator, having trusted me enough to increase my responsibility. During the on-the-job and formal training provided by GTE, I got a lot of experience and knowledge, learning new things every day. It was very useful to be with people who knew so much. After about a year and a half the company believed I had the ability to operate the wastewater plant on my own, and I was promoted.
The village of Canangucho is a very easygoing community. Although it is one of the five villages closest to GTE's operations in Putumayo, my community isn't knowledgeable about the oil industry. They have asked me about what I do, and when I tell them about how we do things and about our teamwork approach, they are very surprised because people don't know very much about this kind of work.
There are approximately 300 families in Canangucho, plus an indigenous group of 200 families who have their own policies, language, identity and land. Canangucho has many needs. Our community has been both demanding and understanding. This is a good balance for us. Communications have improved a lot. The company has always looked for the best way to have the right answer in a very short time.
Since the arrival of Gran Tierra, we've had a lot of good social development. The community is very grateful to the company for all the efforts they have put into supporting us and for what has been achieved. We have received a lot of things that were useful to the community such as jobs and support for education and sports. Of course, we always have people who want to work, but sometimes it's not possible. We feel we are number one in terms of employment opportunities since we are so close to the company's projects. Gran Tierra is the greatest company in terms of employment. Right now 10 people from our village are working for GTE.